"Run me like the numbers, roll me like the dice"
By Anthony Castrovince/MLB.com
On Twitter: @Castrovince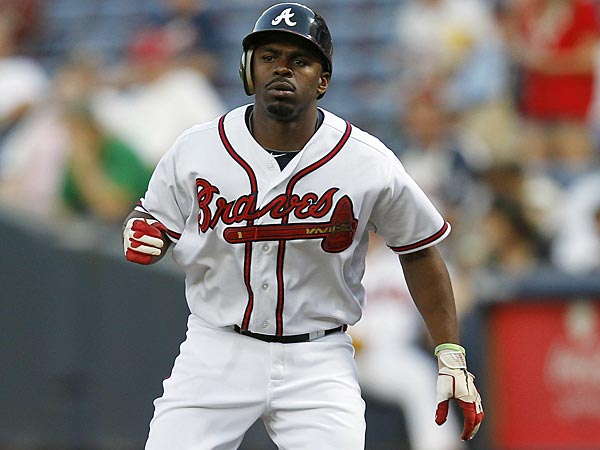 There is shock in the numbers, sure.
A $48 million guarantee to a 30-year-old speedster named Michael Bourn? A $56 million guarantee to a 32-year-old run-producer named Nick Swisher? These numbers don't mesh with our mindset about the Cleveland Indians. Numbers like these are the reasons the Indians trade away talent months before it reaches free agency. These are not numbers we associate with the Dolan ownership, because these are not numbers that revenues in the time of the Dolan ownership have typically supported.
But these are numbers that form the surreal reality in which the Indians now operate. It is a reality in which the Indians just signed two of the top five position players available on the open market this winter. And no matter the particulars of the market (it was certainly one light on top-end talent), that's huge news.
Let's not take this, though, as some bold new strategy on the part of the Indians or their ownership. It is, after all, an ownership that has long spent within its means, and this winter is no different. It is a front office that has always tried to apply some creativity — not always successfully, of course — to team construction to overcome its deficits, be they of the payroll or personnel variety, and this winter is no different (witness the Shin-Soo Choo trade).
What is different, of course, is that new revenue streams — mostly of the national but also of the local television variety — opened up to them at a time when the needs at the Major League level were particularly glaring.
Kudos, then, to front office and ownership alike for traveling down those roads, beginning with the addition of Terry Francona, rather than retreating into yet another rebuild.
A rebuild once seemed likely, maybe even necessary. And given the still-pertinent questions about the talent in the upper levels of the Indians' farm system, to say nothing of the risks the Tribe is taking on in these long-term deals with players venturing toward the back side of their prime, perhaps one day we'll look back at this wild winter and wonder whether these momentous moves were really the correct course of action.
For now, though, what you have is a lineup that looks like this:
1.    Bourn, CF
2.    Jason Kipnis, 2B
3.    Asdrubal Cabrera, SS
4.    Swisher, 1B
5.    Carlos Santana, C
6.    Mark Reynolds, DH
7.    Michael Brantley, LF
8.    Lonnie Chisenhall, 3B
9.    Drew Stubbs, RF
All right, so that's just one version. Maybe you keep Swisher in right, put Stubbs on the bench and DH what's left of Jason Giambi. Maybe you alternate Mike Aviles between DH and shortstop, spelling Cabrera. Maybe you platoon Stubbs and Brantley or maybe the Chiz Kid doesn't take off and you need to put Reynolds at third and Santana at first. Or maybe… oh, I have no idea. I just know that it's interesting to actually be interested in the Indians' lineup again, isn't it? It's nice to know the major lineup intrigue in Terry Francona's first season at the helm won't be revolve around an evaluation of the Matt LaPorta Project v. 3.0 and that Aaron Cunningham won't be playing in 72 games again.
The Indians have assembled a unit with speed and balance and versatility and power and on-base ability. And they have assembled an outfield with the athleticism to augment the work of the starting staff.
Ah, shoot, there I go mentioning that starting staff. I knew this would come up eventually.
All right, let's just state the obvious: It is impossible to fall head-over-heels in love with this starting staff. I still don't know what Justin Masterson is – starter or reliever. I don't exactly know that the AL is going to be a particularly welcoming place for Brett Myers to take up starting duties again, and I certainly don't know that the No. 3 spot of a rotation is the place for him to do it. I feel like watching Ubaldo Jimenez pitch is a better cardio workout than 60 minutes on the elliptical. I don't know what to expect from Trevor Bauer and, more to the point, I don't even expect him to be in the big leagues out the gate. I liken the rotation options, at this point, to the rest stop food options on the turnpike when you're on a long road trip: You know they're not likely to blow away your expectations, but you do need them, they do serve a purpose, and you just hold out hope they don't leave you violently ill.
So, yeah, maybe the rotation tanks this entire thing in 2013. Nobody knows. But you can envision a scenario in which this Bourn thing still makes sense, even in absence of a winning or otherwise competitive season.
Think about it: The Indians were in a prime position to sign Bourn because they can't give up their first-round pick (as it is within the top 10), they had already given up their second-round pick (in the Swisher signing) and they essentially had two third-round picks. When his price tag dropped, he was too good to pass up, as the Draft pick compensation conundrum that scared away so many others simply did not apply to the Indians. So maybe Bourn has a big season and the Indians don't. Is it completely inconceivable that he could then become trade bait — at the summer deadline or Winter Meetings — to a team that might have had interest if he wasn't attached to a prominent pick? I don't think it is.
(UPDATE: Paul Hoynes reports that Bourn will make $7 million in 2013, $13.5 million in 2014 and '15 and $14 million in 2016. So the backloaded deal plays in perfectly if the Indians do decide to flip him down the line.)
Or perhaps Stubbs or Brantley are viewed as trade bait in the immediate, and the Indians bring back an arm or two through that route.
Too many surprises have unfolded already for any of us to have a clear idea of what comes next. All we know is that the Indians had new revenue sources and they tapped them. They had an obvious need to get creative with their roster, and they did. They just completed easily their most entertaining and interesting offseason in recent history.
And you have to admit, these new numbers look good on them.
~AC